Carpentry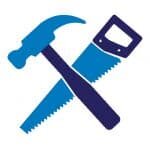 From Rough Carpentry to Residential Finish Carpentry.
Painting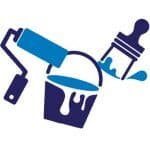 Professional Painting for small interior room to large exterior.
Maintenance

Routine, Preventive, Schedule Maintenance and Home Repair.
Adding onto a House: Expand your living space by adding a new bathroom, bedroom, or garage. A new addition will also increase the value of your home. We make every effort to make the additions appear to belong to the original house by matching the painting, walls, siding, roofing to the style of the building.

Bathroom Remodeling: Renovate your bathroom, redesign the shower on a new tiled floor, change the vanity with a modern faucet, new sink and a granite countertop.
Cabinetry and Shelving: Forget generic bookself or plastic storage bin. My custom-built cabinets and personalized shelving add value to your home, with an amazing créativité and unique beauty.
Concrete Work: Need a concrete slab for an extension, driveway or pathway.
Deck Remodel: Design and construction of outdoor living spaces, pergola, custom outdoor kitchens, outdoor fireplaces and renovated deck.
Fencing: Repair, replace or install new fencing.
Finish Carpentry: Interior trim, baseboard, interior and exterior doors, windows, stairs, joinery, crown molding, closet, bookshelves and other design elements.
Flooring Installation: Carpet replacement, install laminates or hardwood flooring. 
Kitchen  Renovation: Change your laminate countertops to granite, quartz, wood, or stone, installation of new kitchen cabinets, sink, faucet and appliances.
Painting: A new coat of paint can make all the difference in your home. For your indoor or outdoor home, like a new cocooning home.
Roofing: Repair or roofing installation.
Rough Carpentry: Framing of building.
Siding: Exterior siding protects and distinguishes your home. Installing new siding restore or update a structure's traditional beauty.
Whole Home Remodel: Change the flooring, adjust the floor plan, add or remove walls, add new cabinets and appliances, etc. We will work with you all the way through to the final touches. Just imagine how beautiful your home could look! Let's work together.
Other Contractor Services: In addition to all of the above, General Contractor also offers any tailor-made idea.
Wait no more to contact us now to make sure you hire the right remodeler in Bellevue, WA.